Used Merchandise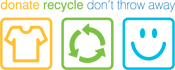 In addition to the more typical salvage items sold in our industry, Buffalo Export offers a variety of other items purchased from charitable organizations & thrift stores. Please ask us!
All items are shipped in gaylord boxes except for stuffed animals, backpacks and cardboard which are shipped in large bales.
Stuffed Animals (existing & shrink-wrapped)
Hard toys - small & large sizes.
Pots & pans & utensils
Sporting goods
Books
Bric-a-brac (misc. household items)
Suitcases
Backpacks/school bags
Board games & puzzles
Cardboard & corrugated boxes
Pallets
Baling Wire
Click on the photos at right to see a larger picture.