New Merchandise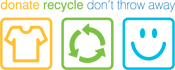 Buffalo Export sells new clothing items (Cutter & Buck, t-shirts, polo shirts, sweatshirts, jackets, etc. both with and without logos). Buffalo offers many unique possibilities for you to explore.

Cutter & Buck:
Polo shirts, jackets, sweatshirts and other garments and accesssories. Men's and Ladies'.

New T-Shirts:
Printed and Solid. Long and short sleeve. A variety of colors.

Other New Garments:
Polos, Jackets, Sweatshirts, Shirts, Pants, etc.

Looking for something? Please ask us!
Our new merchandise has either no or slight imperfections and comes from some of the most respected manufacturers from the United States and abroad. Ask us if there are any items you have an interest in.