Recycle your clothes and household textiles.
It's the ultimate GREEN choice!
We are a proud member of the SMART Association (Secondary Materials and Recycled Textiles)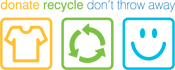 From the SMART Website: "Glass, cans and paper can all be recycled. What about t-shirts? Yes, in fact all forms of textiles can be recycled. The EPA estimates that the average person throws away 10 lbs of clothing per year. That adds up to 2.5 billion pounds of unnecessary waste added to our landfills."
Follow this link and download this flyer to find out why, where and how your old clothing, towels, shoes, toys, rugs, etc. can be repurposed!
| | |
| --- | --- |
| Click on the page above to download SMART's Textile Recycling Checklist for Communities (127k) | |